KTO Hosts a Video Contest - Share Your Korea Travel Tips!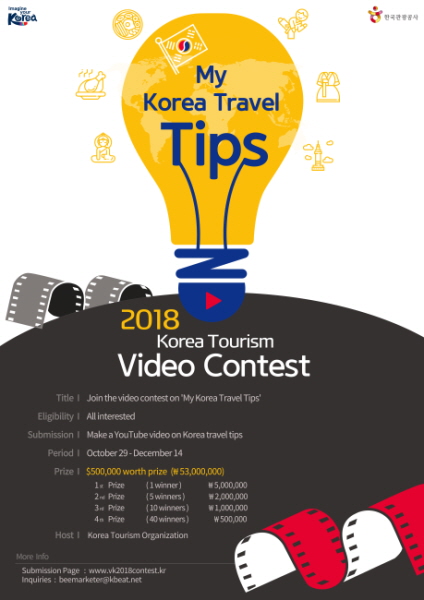 Photo: Korea Tourism Video Contest Poster
Korea Tourism Organization (KTO) is currently hosting Korea Tourism Video Contest, "My Korea Travel Tips," until December 14, 2018. Eligibility applies to all who are interested in sharing tips for traveling in Korea, such as demonstration on purchasing a single journey ticket for subway, how to get to Seoul from Incheon International Airport, and tips on receiving a tax refund. Contestants are also encouraged to share tips and recommendations based on personal experiences like best places to eat and sleep for solo travelers and excellent insta-worthy attractions.

A total of 56 videos will be awarded, ranging from one 1st prize winner to forty 4th prize winners. Selected videos will be used to promote Korea via KTO's official YouTube and other social media channels. For more details, visit KTO's official Korea Tourism Video Contest website.
>>> More Info

KTO Hosts a Video Contest - Share Your Korea Travel Tips!

☞ Period:
October 29-December 14, 2018
☞ Eligibility:
All interested
☞ Prizes:
1st Prize (1 winner) 5,000,000 won / 2nd Prize (5 winners) 2,000,000 won / 3rd Prize (10 winners) 1,000,000 won / 4th Prize (40 winners) 500,000 won
☞ Winners announcement:
December 28, 2018 (Planned)
☞ Inquiries:
beemarketer@kbeat.net
☞ Website:
www.vk2018contest.kr
(Korean, English)
☞ 1330 Korea Travel Hotline:
+82-2-1330 (Korean, English, Japanese, Chinese, Russian, Vietnamese, Thai, Malay)